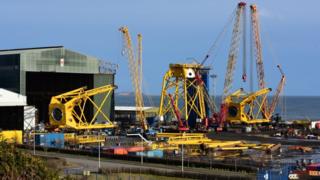 Scottish companies have won key contracts to build a major wind farm off the coast of Fife.
The 54 turbines for the Neart na Gaoithe (NnG) site are being assembled at Port of Dundee, while engineering firm BiFab will build eight of the foundation jackets at its Methil yard.
The announcement comes amid concern about Scots companies losing out on contracts to foreign competitors.
NnG is one of Scotland's biggest renewable energy projects.
It is due to be completed in 2023 and will provide power for 375,000 homes, with offshore construction to start in June 2020.
'Hard work'
Eyemouth Harbour has also been earmarked as a preferred supplier for maintenance work on the project.
The announcement came amid on-going concern that Scottish firms such as BiFab were missing out on contracts to build renewable energy projects to foreign competitors.
BiFab's fabrication yards were mothballed after the Scottish government bailed out the company as it struggled to win work.
EDF Renewables UK CEO Matthieu Hue said the NnG project had reached a "hugely important milestone"
He told BBC Radio's Good Morning Scotland programme: "We will continue to work very hard to maximise the potential of the project for the local supply chain in Scotland.
"We do not ignore the supply chain outside Scotland – in fact Scotland doesn't have all the skills and contractors yet to be able to bid in all aspects of wind farm construction.
"But as the growth of offshore wind continues, we certainly hope and push for Scottish companies to increase their input into offshore projects."
The eight steel foundation jackets being built by BiFab are used to anchor wind turbines to the seabed.
Mr Hue added: "The yard has been mothballed for some time and it's important that the yard is able to build up the capacity and we certainly think it will allow BiFab and its owner to do that."
BBC Scotland's business and economy editor Douglas Fraser said the contract was "probably not a game-changer" for BiFab, given most of the jackets were being imported.
Charles Hammond, chief executive of Forth Ports, which runs Port of Dundee, said the announcement would bring "significant benefits" to Dundee and Scotland.
'Manufacturing footing'
The union Unite welcomed the latest development but warned more needed to be done to support BiFab yards.
Unite Scottish Secretary Pat Rafferty said: "This work can provide a manufacturing footing for the BiFab yards to build on but greater support from the Scottish and UK governments to ensure more work and investment is secured there is absolutely vital.
"The shameful reality is that if it were not for the work of the trade union-led campaign to ensure BiFab secured work from the NnG project, then in all likelihood there would have been no work going to the yards."
Earlier, Scottish Finance Secretary Derek Mackay said the government was pressing developers to explore "every possible option" to help Scottish companies win work to develop future offshore wind projects.
He added: "While we believe that much more is possible from across the whole sector, today's announcement is another welcome step in the right direction."
For the latest business news as it happens, follow BBC presenter Andrew Black's updates each weekday morning on BBC Radio Scotland's Good Morning Scotland programme between 0600 and 0900.
Credit: Source link